Monday, August 6, 2018T
he Sport Inquiry Commission has advanced discussions over the past year after receiving request by the JSA in July 2017 to examine the "Steady Implementation of the Second Sport Basic Plan". The deliberation lead by the commission's Health and Sport, and International Sport Strategy sub-committees have particularly focused on the items: "Dramatically Improve Sport Participation Rate" and "Promote International Exchange and Cooperation through Sport."
Chairman of the commission, Yasushi Yamawaki, has visited JSA Commissioner Daichi Suzuki on August 6th to submit two reports on the detailed measures proposed by the committee: "Action Plan on Improving Sport Participation Rate: Towards Life with Sport", and "International Sport Strategy."
The Action Plan on Improving Sport Participation Rate: Towards Life with Sport includes the following detailed measures:
-Development of a portal site with a search engine to enhance matching coaches, members and places which will become important when playing sport.
-Implementation of a liaison conference with the Ministry of Health, Labor and Welfare towards improving health through sport.
-Implementation of a campaign to promote women's participation in sport.
The International Sport Strategy includes the following measures;
-Examination of the modality of international cooperation projects through sport following the 2020 Tokyo Olympics and Paralympic Games.
-Building partnerships with the Ministry of Economy, Trade and Industry, the Japan External Trade Organization (JETRO) and the Japan Sport Council for the global expansion of sport
-Examination of implementing a further advanced program towards dispatching Japanese to the International Sports Federation (IF).
Based on the commission's report, the JSA will decide by this autumn the contents of the "Action Plan on Improving Sport Participation Rate" and the "International Sport Strategy", and work towards promoting relevant policies.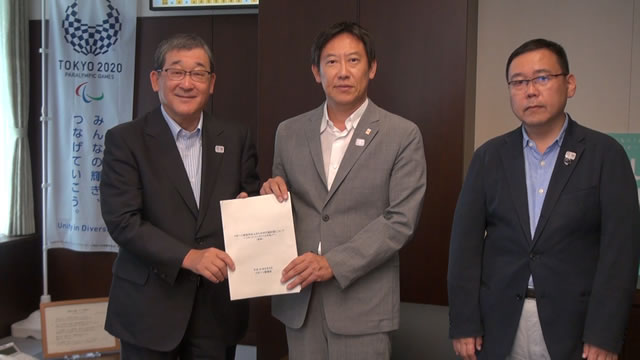 from left: Sport Inquiry Commission Chairman Yasushi Yamawaki, JSA Commissioner Daichi Suzuki, JSA Deputy Commissioner Yuzuru Imasato