Science and Technology
November 30, 2016
 Element 113, which was discovered by RIKEN, has been officially named as "nihonium" with the symbol "Nh", approved by the International Union of Pure and Applied Chemistry (IUPAC).
 I am very pleased that the name "nihonium," which was proposed by the research group led by Dr. Kosuke Morita as an expression of their deep gratitude to the people of Japan for their longstanding support, was approved, and I would like to again express my highest regards to Dr. Morita's team for their tireless efforts.
 The name of the new element, the first time a new element has been discovered in a country other than the United States, Russia, and or Europe, is the culmination of a brilliant achievement that signals to the world the high level of Japan's basic research and is a source of great pride and encouragement for the people of Japan.
 With the inclusion in the periodic table of the first element discovered in Japan and Asia which will be shown in textbooks around the world, I expect that many children in Japan will have a renewed interest in science and that the next-generation of scientists who will play active roles in the international world of science will be fostered.
 MEXT will continue to support the world-class research activities and promote the advancement of science and technology at RIKEN and other Japanese research institutes.
Hirokazu Matsuno
Minister of Education, Culture, Sports, Science and Technology
 From more details, please see RIKEN's website.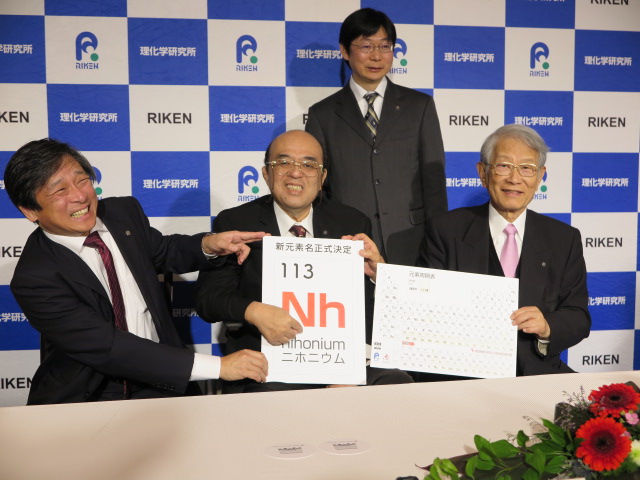 RIKEN Nishina Center Group Director Kosuke Morita (center), RIKEN President Hiroshi Matsumoto (right), RIKEN Nishina Center for Accelerated-Based Science Director Hideto En'yo (left), RIKEN Superheavy Element Device Development Team Leader Kouji Morimoto(back)


(Basic Research Promotion Division , Research Promotion Bureau)