---
PREVIOUS
NEXT
---
Part2 Educational Reform Q&A
Q59: I understand that the Ministry of Education,Science,Sports and Culture(MESSC)started broadcasting ELNET in July1999.What is it?
---
A:The Educational Information Satellite Com-munications Network(ELNET)is a compre-hensive network that broadcasts all mannerof information on education,culture andsports nationwide over communications sat-ellites.
The network system currently has receiver sta-tions in over1,100locations nationwide in schools and social education facilities and other areas,and broadcasting stations in27locations nationwide at MESSC headquarters,the Nation-al Education Center,the National Olympic Memorial Youth Center,and the National Science Museum,as well as education centers in prefectures and designated cities.They are linked together by communications satellite.The specific applications of the network are broadcasts for(1)Children's Broadcasting Sta-tions,(2)University extension courses(ELNET Open College)and(3)teacher training for pre-fectural teachers and relevant educators(ELSTEP)intranet transmissions of a variety of content from the receivers on demand,and simultaneous data transmissions of documents and data,etc..Of these,Children's Broadcasting Stations are run as part of the National Children's Plan(Emergency Three-year Strategy)and broadcast programs for children between11:00am and4:00pm on Saturdays,which are to become school holidays.Using the unique two-way fea-ture of ELNET,participation-style programs are planned in which children can participate in a variety of activities,such as craft,and ask ques-tions freely at reception centers.Plans for local programs broadcast from transmission stations in areas around the country are also expected.In addition to broadcasting MESSC News at1:00pm on Mondays,conferences and seminars related to MESSC are transmitted to the nation.In this way,the latest information from MESSC is directly obtainable at each receiver station.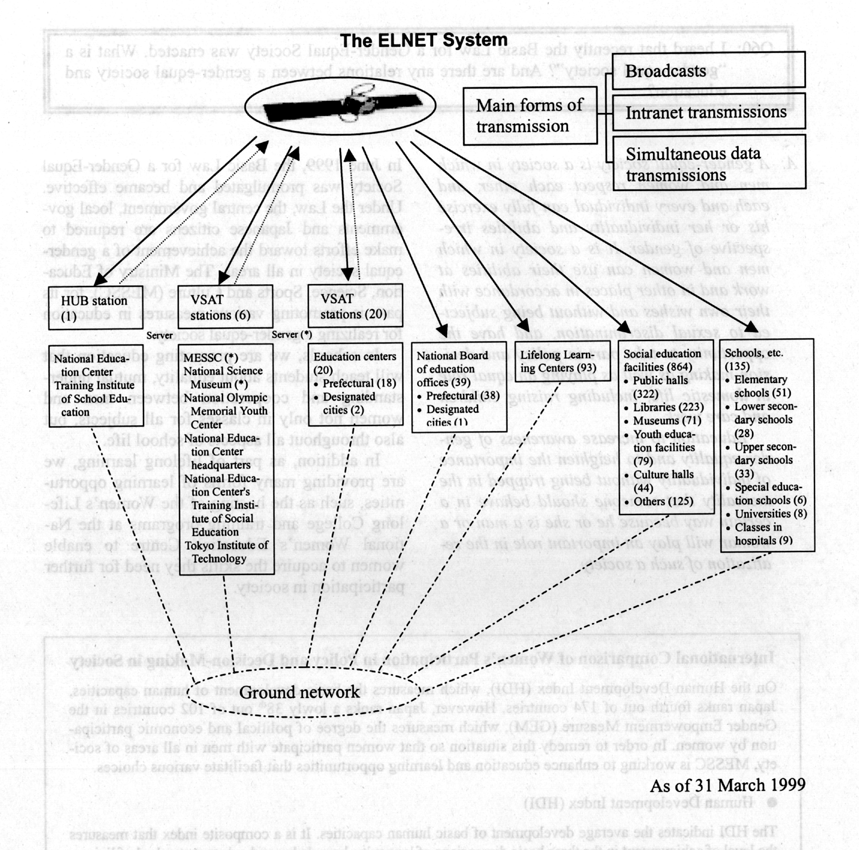 ---
PREVIOUS
NEXT
---
(C)COPYRIGHT Ministry of Education, Culture, Sports, Science and Technology