---
PREVIOUS
NEXT
---
Part2 Educational Reform Q&A
Q38: I have heard that it will be possible to enter university after completing two years of upper secondary school.Is that true?
---
A:Yes,it is true.However,the following condi-tions apply.First,the student must have an exception-al aptitude for mathematics or physics andhave an academic ability equivalent to orhigher than an upper secondary schoolgraduate.Second,the university must have a gradu-ate school doctorate course that specializesin mathematics or physics and have asuitable education and research record andsystem of instruction appropriate for the de-velopment of this kind of student.
The aim of early university entrance is to expect to further develop the talents of a small number of students who are exceptionally gifted in des-ignated areas by giving them advanced and spe-cial instruction at university,from the perspec-tive of developing education in accordance with the abilities of individuals.In1998,Chiba University began accepting students into the Faculty of Engineering in the Advanced Science Program,and three students were admitted.In1999,Chiba University also recruited for the Faculty of Science,and three students were admitted.As students who complete this program are expected to make vital contributions as future researchers,a special curriculum has been pre-pared for them.The basis of the curriculum is attendance at the same classes as regular stu-dents,but in addition to increasing the number of credits from basic physics and mathematics classes,an individual instruction period called the Advanced Science Seminar has also been set up.The program gives consideration to all-round character development with seminars on hu-manities and social studies themes in the form of Literature Seminars being held in addition to seminars to stimulate the in-depth pursuit of expertise in physics and mathematics.
What is an Advanced Science Seminar?
Here we introduce the annual content of the Advanced Science Seminar-the most characteris-tic feature of the Advanced Science Program.
Omnibus-type Seminar
This involves the introduction of a wide range of topics in the natural sciences by university and external teaching staff,as well as field trips to a variety of research facilities.For example in FY1999,lectures on subjects including scientific research on space sta-tions,the latest developments in semi conductors and computer simulations were held by exter-nal teachers.
Mathematics for Physics Seminar
Following a review of basic mathematics,students extensively study mathematics that can be usefully applied to physics.
Physics Seminar
After thoroughly reviewing the basics of physics,students make a thorough study on important issues in physics(Enthusiastic students from both the Faculty of Science and the Faculty of En-gineering also participate in these three seminars).
Literature Seminar
A number of teachers are in charge of holding seminars where a variety of themes that everyone is interested in are discussed.For example,in1999,four teachers held seminars on themes such as"Reading Novels,""Studying the Civil Code,""Writing Theses"and"Debating."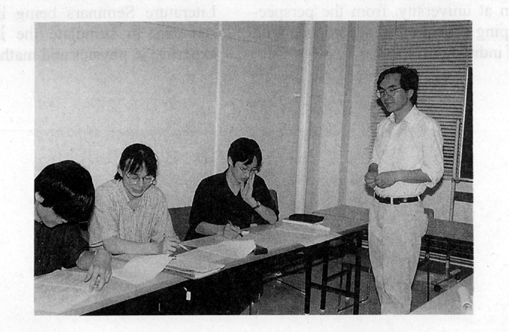 ---
PREVIOUS
NEXT
---
(C)COPYRIGHT Ministry of Education, Culture, Sports, Science and Technology