---
PREVIOUS
NEXT
---
Part2 Educational Reform Q&A
Q36: I would like to go to graduate school and be a researcher in the future,but my family's economic circumstances will not enable me to go to graduate school.What kind of scholarship systems are there?
---
A:The Japan Scholarship Foundation providesscholarships to students of upper secondaryschool level and above in order to reduce theeconomic burden of education artd allowstudents to study independently.In FY1999,the system was drasticallyexpanded with a great increase in the num-ber of recipients of interest-bearing scholar-ships and the introduction of a monthlyamount of loan selection system.
Applications for scholarships are carried out through each school,with a system for applica-tion after entering the school and an advance application system for before entering the school also in place.For advance applications for graduate school,students apply to the graduate school where they intend to study in the autumn of the year before they plan to enter the school.For doctoral courses come with an interest-free loan of117,000yen per month which appli-es to nearly all students wishing to become re-searchers,although there are some restrictions based on student income.In addition,an exemption system for repay-ment of graduate school loans allows students to become researchers and work for an institution for a set term.Students at upper secondary schools,universities,junior colleges and special training colleges can also receive loans under certain conditions.The basis of the loan varies according to fa-mily financial situation,household composition and place of residence.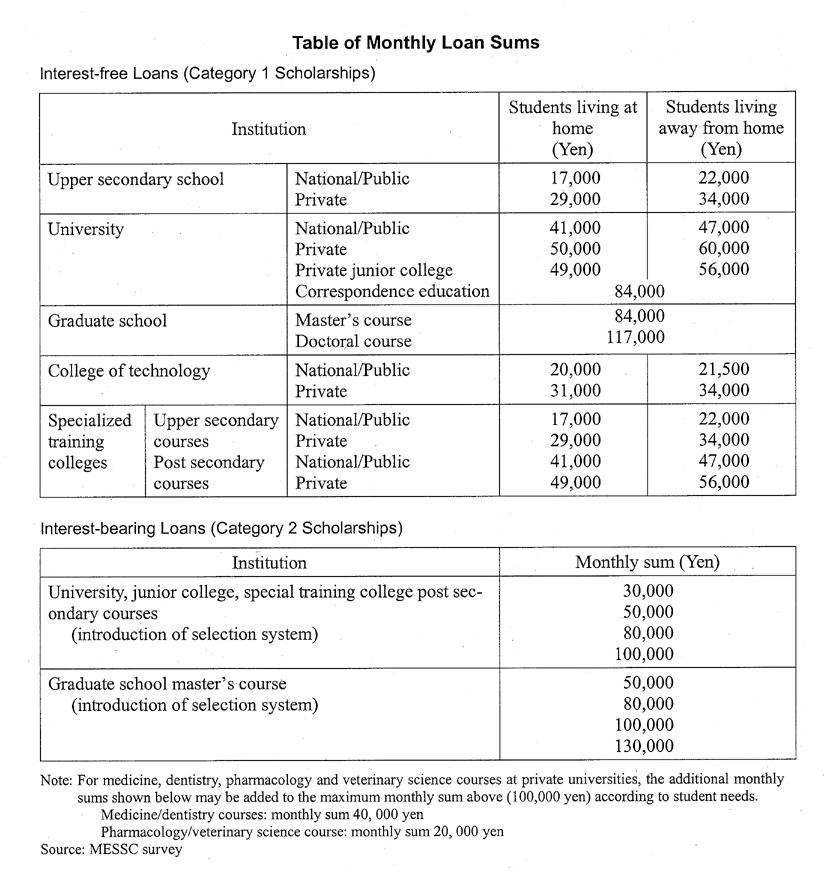 ---
PREVIOUS
NEXT
---
(C)COPYRIGHT Ministry of Education, Culture, Sports, Science and Technology