---
PREVIOUS
NEXT
---
Remaking Universities: Continuing Reform of Higher Education
Chapter 2 How Universities Are Changing
Section 1. What People Study at Universities
2. Efforts to Enhance the Quality of Teaching
---
Like the improvement of educational content, such as the above-mentioned curriculum enhancement and course diversification, the improvement of teaching methods and other aspects of university teaching is vital to the qualitative enhancement of university education. As discussed below, universities are currently working in various ways to achieve improvements in this area.
(1)
Preparation and Publication of Syllabuses
The term "syllabus" generally means a course plan. Traditionally, Japanese universities have provided students with general information about courses in such forms as the course overviews used in the course selection process. Most universities, however, have not published detailed syllabuses containing specific information, such as the aims of programs, course outlines, the content of individual classes, textbooks and reference materials, and evaluation methods and criteria.
In recent years universities have taken steps to improve the quality of their classes as part of their reform process. An increasing number of universities are requiring teachers to prepare syllabuses, which are then published as booklets. In fiscal 1994 the number of universities taking this step reached 176, a substantial increase over the fiscal 1992 total of 80. To provide students with faster access to the necessary information, some universities have also put their syllabuses into databases that can be accessed from terminals in libraries and other facilities.
A number of benefits can be achieved through the preparation and publication of syllabuses. First, providing students with better advance awareness of class content encourages them to select courses systematically and to participate more actively in their classes. In addition, the publication of syllabuses, which are blueprints for university courses, has the potential to motivate teachers to cooperate in enhancing systematic instruction while working to improve class content.
In this sense, the compilation and publication of syllabuses can play an important role in motivating both students and teachers to improve the quality of classes. To ensure that these efforts are not limited to the compilation and publication of information, individual universities need to increase their efforts not only to enhance syllabus content but also to improve the effectiveness of syllabuses by placing reference books and other materials cited in syllabuses in university libraries, by providing adequate curriculum guidance on course options, and by specifying office hours * for student inquiries. The results of the above-mentioned survey show that 25.8% of undergraduate students are dissatisfied, particularly with curriculum guidance.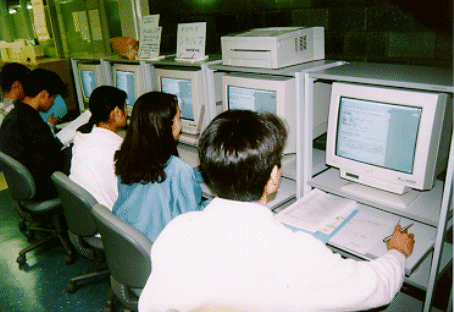 ---
(2)
Expansion of Small-Group Education
More and more universities are expanding education based on small classes. Question-and-answer sessions with teachers and discussions among students enhance educational benefits by encouraging students to take the initiative.
There is strong demand among students for small-group education. When asked their wishes concerning university classes in the above-mentioned survey, many undergraduate students stated that they wanted classes to be small enough for teachers to be aware of individual students. Progress toward the introduction of small-group education has been especially noticeable in the field of foreign language education. By fiscal 1994, 177 universities (approximately one-third of all universities) had implemented class structures based on a maximum of 20 students per class. The number of universities in this category has doubled since fiscal 1992 and tripled since fiscal 1988.
There has also been a steady increase in the number of universities using the small-group approach for experiments and practical training, seminars, and thesis guidance. In recent years interactive class formats have been used in a growing number of universities with the aim of enabling students to develop the ability to learn and to solve problems for themselves. In these classes, which go under such names as "basic seminars," small groups of students participate in question-and-answer and discussion sessions on specific themes under the guidance of assigned teachers.
(3)
Faculty Development
The rising percentage of students proceeding to higher education has been paralleled by diversification of the students entering university. Increased expectation that universities will function as lifelong learning institutions is also being seen. Universities cannot meet these diverse needs and enhance the quality of education unless teachers are aware of their responsibilities and work continuously to enhance their own abilities. At present student evaluations of the methods used by teachers are not always high. The results of the above-mentioned survey show that 42.4% of undergraduate students are dissatisfied with teachers' methods of instruction, including diction and use of the blackboard.
Faculty development plays an extremely important role in activities designed to improve universities' educational functions. Japanese universities, however, have just begun to make organized efforts to improve class content and teaching methods. Efforts in this area are still not as widespread as the above-mentioned measures relating to curriculum structures and the compilation and publication of syllabuses. As of fiscal 1993, slightly more than 10% of universities had established faculty study groups.
Some universities, however, organize study sessions as part of their faculty development activities and publish booklets containing the results of those sessions. In some cases, teachers observe one another 's classes and hold discussions on such subjects as teachers ' approach and their methods of presenting teaching materials. In addition, a number of universities have established research centers for higher education or similar organizations to conduct research and development concerning methods of improving the skills of teaching staff, to carry out teacher training, and to undertake faculty development efforts, including individual counseling on teaching methods.
(4)
Utilization of Diverse Media
In recent years rapid advances in information technology have been accompanied by the increasing use of new media equipment in university classes. As of fiscal 1994 educational media equipment, such as computers, compact disc and laser disc players, and video projectors, was being used in 51% or more of courses in approximately 20% of universities and in 21% to 50% of courses in about 40% of universities. Approximately 40% of universities were using such equipment in up to 20% of courses. In the future an increasing number of universities are likely to use a wide range of multimedia-based approaches, including remote teaching via communications satellites.
(5)
Classes That Take Account of Learning at the Upper Secondary School Level
The reform of upper secondary education is bringing about a number of changes, including more flexible courses and a wider range of optional subjects. This is reflected in the increasing diversity of subjects studied at the upper secondary school level by students entering universities. In some cases, subjects that form the foundation for specialized study at university are not covered at the upper secondary school level. This can hinder the efficient implementation of university education. In the above-mentioned survey, for example, 32.4% of undergraduate students stated that they were experiencing difficulty with university classes because of the need to study subjects not covered at the upper secondary school level.
For this reason universities are taking a variety of steps to ensure that students acquire the basic scholastic ability that they need for education in specialized fields, including consideration of subject coverage at the upper secondary school level. For example, some universities now structure classes according to scholastic ability, offer supplementary classes, or divide students into classes for those who have covered a particular subject at the upper secondary school level and classes for those who have not. As of fiscal 1994, 240 universities, or approximately 40% of all universities, were taking subject coverage at the upper secondary school level into consideration in their programs.
The continuing diversification of upper secondary school curricula is expected to result in further diversification of the students entering universities. This type of fine tuning will therefore be increasingly important in enhancing the effectiveness of university education.
(6)
Classes in Forign Languages
One consequence of internationalization has been an increase in the number of students from abroad studying at universities and other institutions of higher education in Japan. Active admission of students from abroad is an important way of contributing to the international community through human-resource development. It can also contribute to the revitalization and internationalization of university education and research activities in Japan through the expansion of cooperation and coordination among Japanese and foreign universities.
Universities are endeavoring to attract large numbers of culturally diverse students from abroad by establishing special programs for such students and by providing classes taught in foreign languages. Some universities are also experimenting with the teaching of some regular courses in English or in a combination of Japanese and English. Japanese as well as foreign students can enroll in these courses. Teaching classes in foreign languages has a number of potential advantages in addition to facilitating learning for students from abroad, including mutually beneficial interaction between Japanese and foreign students and opportunities for Japanese students to learn about other cultures and enrich their international outlook. Universities can therefore be expected to redouble their efforts to introduce innovations in this area.
(7)
Class Evaluation by Students
The continuing revision and improvement of class content and teaching methods rely on self-monitoring and self-evaluation by teachers and on feedback based on the results of those efforts. It is also important to implement student evaluation systems and to apply the results of such evaluations to course development.
As of fiscal 1994, 138 universities (approximately 20% of all universities) were implementing class evaluation by students. This represents a dramatic increase from fiscal 1992, when only 38 universities had such a system.
The specific items for evaluation differ from university to university, but in most cases students are asked to assess the extent to which classes meet their expectations, the efforts of teachers to make classes systematic and easy to understand, the use of teaching materials, and the characteristics of teachers, such as enthusiasm and diction.
---
PREVIOUS
NEXT
---
(C)COPYRIGHT Ministry of Education, Culture, Sports, Science and Technology